EQUITY COUNTS DATA CENTER
EQUITY COUNTS DATA CENTER
Hey, inequity.
you have nowhere to hide.
Delaware's
Equity Counts Data Center is a
 generation-changing tool that will help Delawareans better understand, identify, and combat widespread inequity in all corners of our state.
Equity Counts Data Center
The data center was created to provide change-leaders and communities with the data and resources they need to build a more inclusive, more equitable Delaware. Now, Delawareans have 24/7 access to health, education, wealth creation, and criminal justice data that help us share the truth about where inequity exists in our state.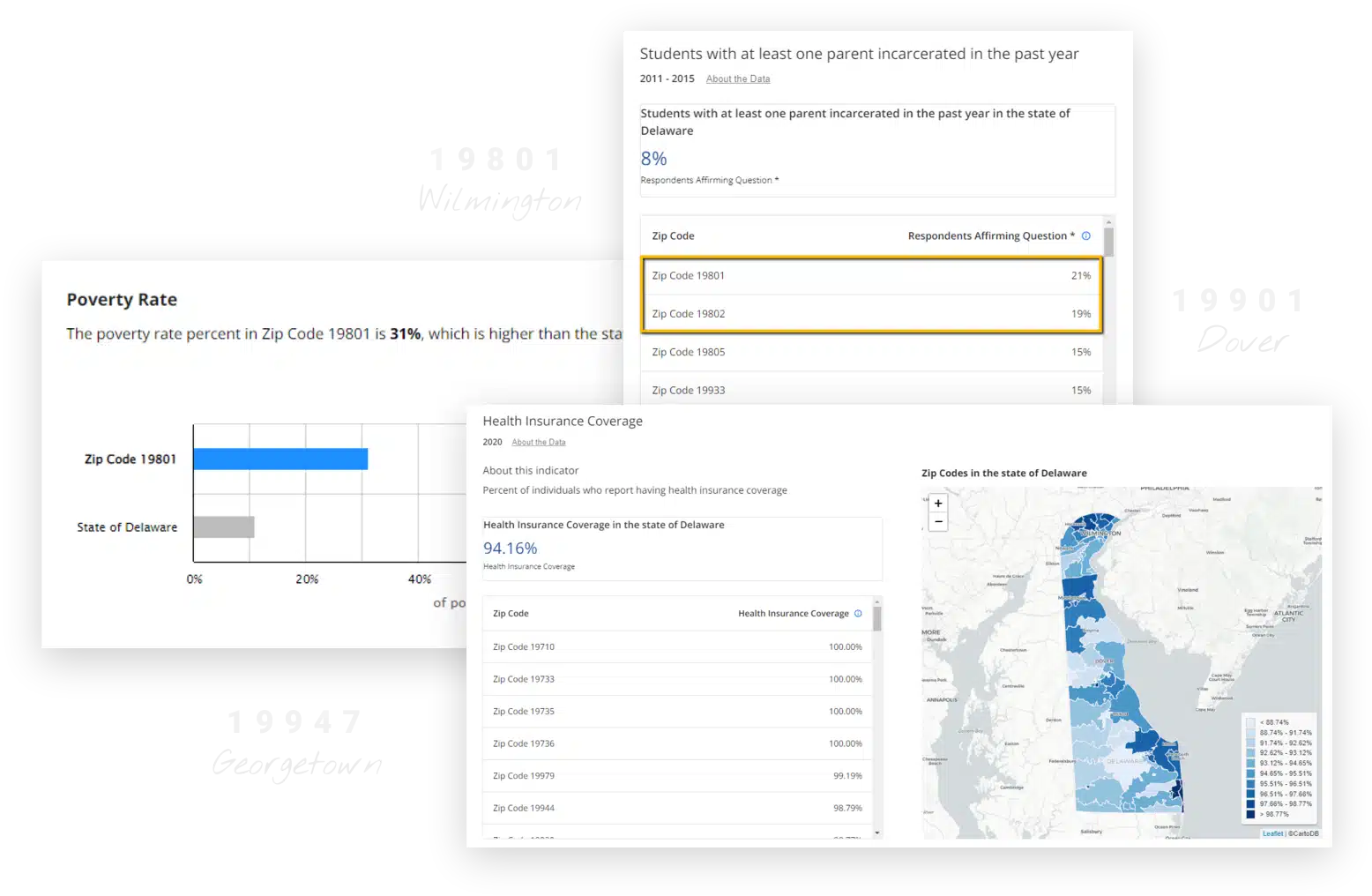 For many years, data that proved inequity wasn't available. Now, we have access to data. We have the numbers and the numbers prove what we see – inequity is everywhere.
Now that the truth is out, we can share it with others. Inviting people to explore the truth themselves will help spread the word, drive greater awareness, and move more people to action.
Change doesn't happen without action. And people don't act unless they believe in something. The more we share, the better chance we have at building a more equitable Delaware for all.
Numbers don't lie.
Numbers point to the truth.
What we do with the truth will determine the kind
of Delaware we live in tomorrow.
EQUITY COUNTS DATA CENTER
Watch the replay of the Equity Counts Data Center launch in November 2022.
EQUITY COUNTS DATA CENTER IN THE NEWS
About the Equity Counts Data Center
Now there is an easier way to access the data you need to build racial equity and social justice in Delaware — the Equity Counts Data Center.
Everyone deserves the opportunity to grow up healthy and prosper, but many communities throughout Delaware are experiencing inequities based on race, gender, sexual orientation, and other
identities. These institutional and historical barriers affect wellbeing and opportunities to thrive.
United Way of Delaware and Delaware Racial Justice Collaborative have partnered with the Delaware Division of Public Health to create Equity Counts Data Center. After identifying the need for a
convenient and easy to use platform that was accessible to everyone on an ongoing basis, Equity Counts Data Center was created.
The Equity Counts Data Center brings together several Delaware-specific data sources in one location that can be used to assess inequities at the state and ZIP code levels. The complete equity data story can be easily accessed on the "My Healthy Community" platform with the ability to disaggregate the data by race, ethnicity, gender, and age. As the capabilities of Equity Counts Data Center continue to evolve over time, more granular data will become available.
Data help to chronicle the realities in which communities exist. Inaccessible data can make it difficult to understand where and how racism and structural barriers to opportunity exist. Without data that exposes the gaps and disparities that exist among groups, it is challenging to develop solutions in the
form of policy, community-based services, and community action initiatives.
The data that exists on Equity Counts Data Center is categorized according to the Delaware Racial Justice Collaborative's "Pillars of Equity" which includes education, health, criminal justice, and
wealth creation. Each of these pillars illuminate gaps that exist which can contribute to a lack of opportunity and flourishing in one's life.
Equity Counts Data Center is accessible to everyone who is curious about equity in Delaware — primarily change leaders, decision makers, community stakeholders, and students. Each of these groups will find the data and resources they need to advocate for change, assess the impact of policy and practices, and to tell compelling stories about their communities.
We invite you to visit Equity Counts Data Center to compare data by race, ethnicity, gender, and age. Tell a story about the inequities that exist today and build solutions for tomorrow.
This initiative is supported by funds made available from the Centers for Disease Control and Prevention, Center for State, Tribal, Local and Territorial Support, under National Initiative to Address COVID-19 Health Disparities Among Populations at High-Risk and Underserved, Including Racial and Ethnic Minority Populations and Rural.