United Way of Delaware summer interns were invited to participate in a televised debate on DETV. The youth were asked to express their views on topics such as "How can we improve our school system?"
The students' perspectives were organic and genuine. They mentioned some issues they feel should be addressed and updated. The experience was one to motivate and encourage our Summer Youth Employees to consider a career in TV production.
Ivan Thomas, CEO of DETV, gave background on how he made his way to television and how it operates, from cameras to the viewer's show. The youth were significantly engaged, and the experience reinforced the model of "You can do it!" and "Don't say NO to your future."
Representative Lisa Blunt Rochester received our interns with a warm welcome. She spoke about her path to becoming a Representative for Delaware and her experience when she was their age. She mentioned her internship days and encouraged them never to give up and to always use their voices. She encouraged them to look at a brighter future and never say no to an opportunity in life to succeed.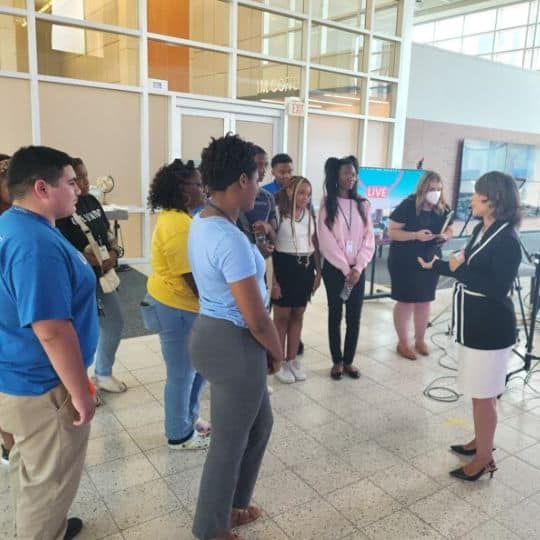 United Way of Delaware strongly advocates for involving young people and their viewpoints into community conversations. While we acknowledge these are our leaders of the future, we urge inclusion of all voices — youthful voices in particular — as we work to change and improve our community.
Following is a report on the day by summer intern Naomi Allen:
I attended the DETV station to shoot a debate/conversation show for the network. It was an enjoyable and exciting experience, from hearing everyone's opinions on the screen to seeing to participating behind the scenes.

I was one of four interns on the production team, and we all worked together to ensure everything went according to plan. I was the production assistant, which meant that I assisted backstage when needed. I would tell people when to wrap up topics, ensure that everyone was camera-ready, make sure that different shots looked good on the screen, etc. My job was enjoyable because I gained insight into how a show is fully put together. I also saw the DETV production room, where they switch cameras and control all of the shots, which was very different and complicated work. 

My favorite part had to be listening to everyone's different opinions. We had two agreed-upon topics, which were lowering the voting age to 16 and whether people should stand for the Pledge of Allegiance or not.

During the discussion of the first topic, everyone had an exciting opinion, but they were all close to the same thing. But during the second topic discussion, there was much more debate. Most people were saying that schools should not require standing during the Pledge. But one person had a different view which sparked an interesting conversation and showed me that what seems like the obvious answer for me isn't the same for everyone.

I would encourage people to watch it and hear the different perspectives and opinions of everyone involved.
Like What You're Reading?
Sign up below to get Feel Good Friday delivered straight to your inbox.