Latinos Unidos, the Delaware Racial Justice Collaborative, and United Way of Delaware hosted the first-ever Latinos Unidos Student Summit on September 16, 2023, at Hodgson Vo-Tech High School in Newark. Smashing our expectations, over 190 students, faculty, advisors, and administrators from all over Delaware, representing 17 schools, attended the Summit. The Summit was designed and implemented by and for Delaware high school students who want to turn up the volume and activism of Latinos Unidos Student Unions/Associations at their schools.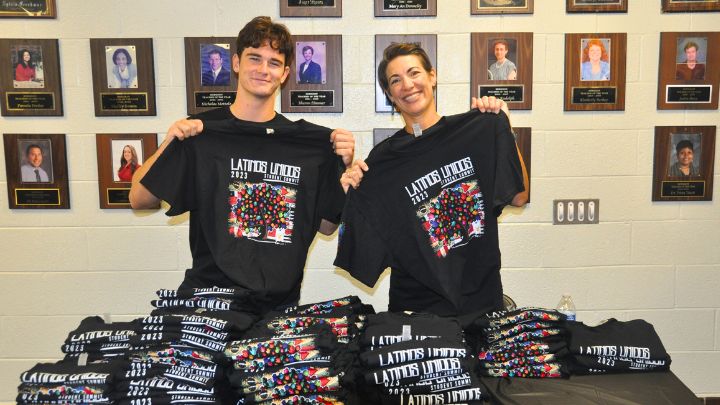 Volunteers hand out t-shirts at 2023 Latinos Unidos Student Summit.
Students and teachers summit organizers inside Hodgson Vo-Tech.
The Summit was intended to prepare, train, re-fuel, and uplift Delaware's Latino students and the adults who support them. The students had an information-packed day, to be sure! The Summit started with welcome messages from the student organizers, followed by a cheer performance by the Aspira High School cheerleaders and a professional Latin Dance performance.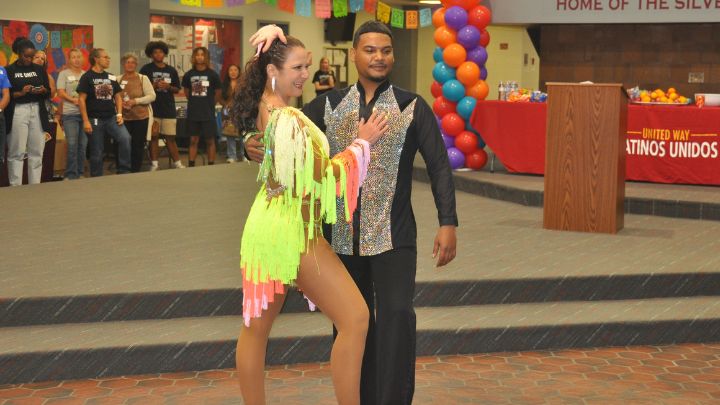 Latin dancers perform at 2023 Latinos Unidos Student Summit.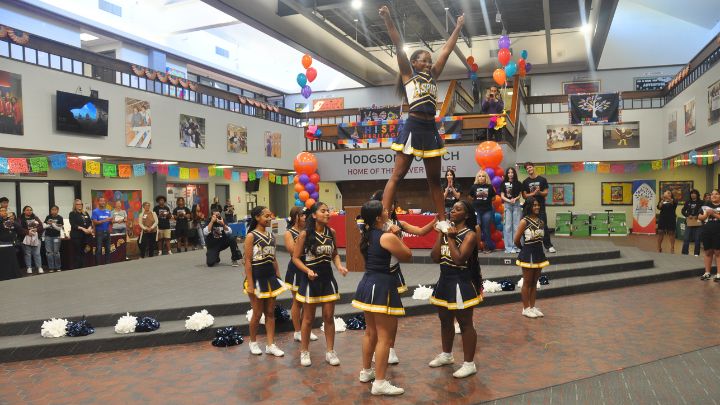 Aspira Academy cheerleaders perform at student summit.
The Summit's Keynote Speaker, Rony J. Baltazar-Lopez, Director of Policy and Communications for the Delaware Department of State and Vice Chair of the Delaware Hispanic Commission, took the stage next. He spoke about his origin story, growing up in southern Delaware as the oldest son of immigrant parents, and the challenges he faced growing up as a child of immigrants, having to fight for his education, and getting his break as an aide to Delaware Senator Tom Carper. He spoke of his challenges as the youngest member of the Milford School Board and his work on the Delaware Hispanic Commission. He also spoke of the importance of the Latino Community to work together, to uplift each other, and for young people to step up and take the lead in helping their families and the community. He ended his session with a short Q&A with attendees, including "How do I become a member of the Delaware Hispanic Commission," the youth leadership program he is leading, and his own plans for the future ("Watching each of you become the leaders you can be.")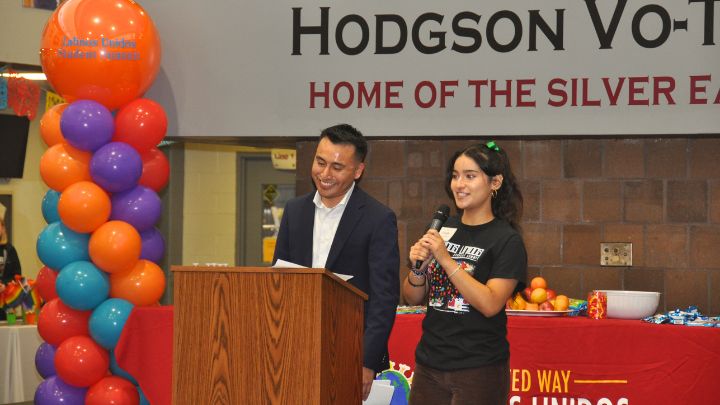 Keynote speaker Rony J. Baltazar-Lopez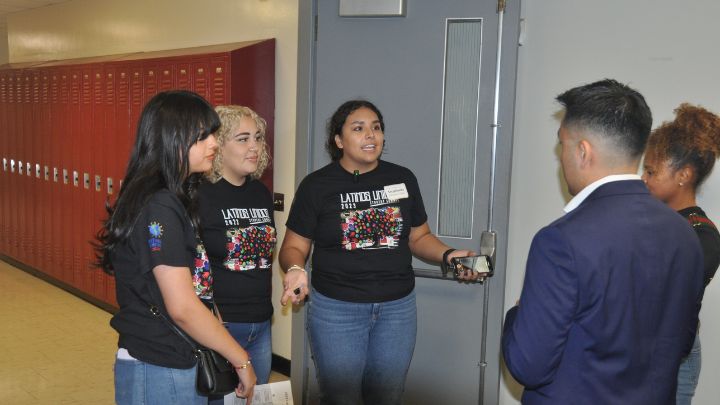 Students speak with Rony J. Baltazar-Lopez at 2023 summit.
The students adjourned to their workshops after lunch provided by Merengue House Bar and Restaurant (of Wilmington). Students could choose to attend two sessions from the following choices:
Mental Health & Generational Trauma, with Noah J. Duckett, Licensed Clinical Social Worker and Sexuality Therapist.
Sexualization of Hispanic Women and Machismo, with Julissa Coriano, Licensed Clinical Social Worker and Sexuality Therapist.
College Application & Funding Process for 1st Generation Students, with Edwin Santos of NexGen Stand by Me
Dance & Cultural Traditions, with Rosa Ruiz – Historian of Culture and Dancer for Ballet Mexico Lindo
We also offered a session for Advisors, Teachers & School Administrators: How to Amplify Latino Youth Voices, led by Bonita Green, Spanish teacher & Latinos Unidos affinity group advisor from Hodgson Vo-Tech High School, Mandy Gillin, Spanish teacher from Conrad Schools of Science, and Wanda Lopez, Communication & Community Engagement Manager from Las Americas ASPIRA Academy.
Following the workshop sessions, the students heard a speech from another community leader, Wilmington City Council member Maria Cabrera. As she switched back and forth between English and Spanish, Councilwoman Cabrera challenged the students to work together; "You got one hand up to people helping elevate you, but you got to keep one hand down, so you're elevating someone else." She also commented on the importance of organizing. "As Hispanics, as Latinos, I'm so proud that you are organizing because that's how movements begin. You organize, you advocate. Don't ever let anybody tell you that one person doesn't make a difference."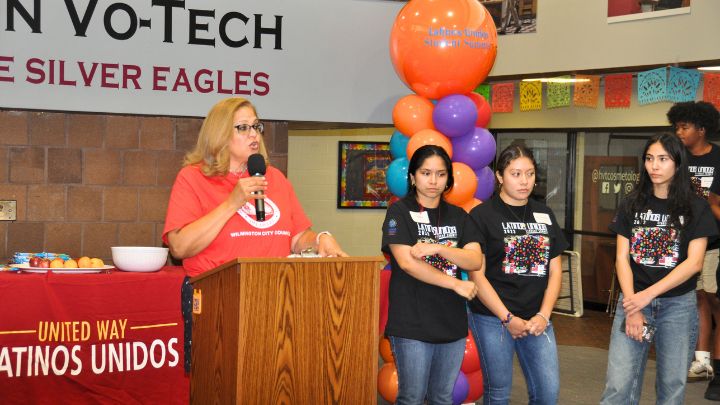 Wilmington City Council member Maria Cabrera addresses guests at summit.
The students took a lot from the Summit. One of our organizers, Emily Rodriguez, a senior at Conrad Schools of Science, said, "I think sometimes we need to take that moment to come back to the people that raised us, that made us who we are, and really embrace our culture by talking about it and learning more about it." Another Conrad Schools of Science student, Joyce Sousa, commented, "I just want Hispanic students from all over Delaware to come together as a community and to embrace our culture. I want everybody to be exposed to themes and ideas that they've never been exposed to before." And one of the students who conceived the Summit, Naelyn Gonzalez-Hughson, a senior at Hodgson Vo-Tech High School, said, "After attending the Black Student Summit with my best friend, I thought, 'Why not have one for Latinos?' And I'm excited to be doing this during Hispanic Heritage Month, which helps us to amplify our voices and show more that there's more of us out there."
Please check out our recap video, which provides some highlights of the Summit!
We also want to thank our sponsors, without which the Summit would not be possible:

As the students began to leave on the buses or with parents or friends, they were already talking about next year, when we'll hold our Second Annual Latinos Unidos Student Summit! See you all in 2024!