Food is not just nourishment for Latinos; it is an integral part of their culture and identity. It connects them to their roots and brings families together. From savory dishes like tacos and empanadas to sweet treats like flan and tres leches cake, food plays a vital role in their traditions and celebrations. Here are some recipes you can enjoy.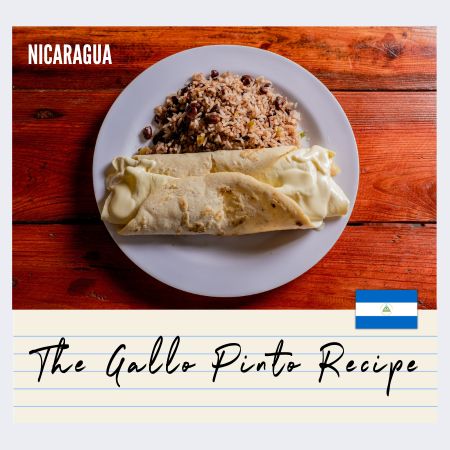 Gallo Pinto
To prepare this gallo pinto recipe for four people, you will need:
1 cup of dried red beans
1 cup of long-grain rice
1/4 cup of vegetable oil  
2 garlic cloves
Salt
Directions:
Start by pouring the dried red beans into a large bowl. Rinse, drain, and cover with water. Soak for at least 12 hours and change the water midway.
Once the 12 hours have elapsed, rinse the red beans and place them in a large pot. Cover with water by 2 inches. Add the two garlic cloves. Bring to a boil, then simmer the beans for 2 to 3 hours until tender. Turn off the heat and salt the beans generously. Allow to sit for 15 minutes. Drain the red beans.
Pour the rice into a colander and rinse until the water is clear.
Pour half the oil into a saucepan. When hot, add the rice and fry for 4 minutes, stirring constantly. Add 2 cups of water and a pinch of salt. When the water boils, cover and turn down on low heat. Cook until the rice has absorbed all the moisture.
Pour the remaining oil into a pan and heat. Add the drained beans and leave on high heat, stirring regularly. When the rice is cooked, pour it over the beans and mix. Cook again for 5 minutes, stirring.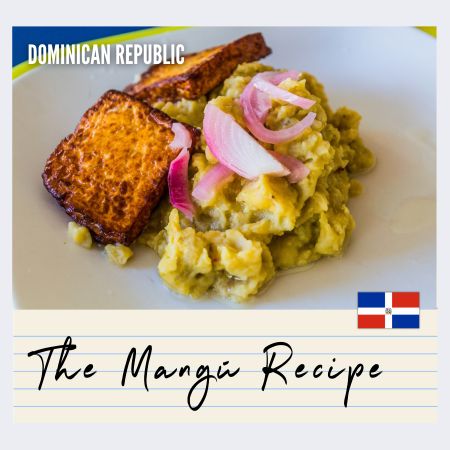 Mangú
To prepare this Mangú recipe for four people, you will need
5 Green Plantains Peeled and diced in half or quarters
2-3 tbs Butter *or to taste
2 Onions cut in rings
¼ cup White Vinegar
Canola or Vegetable oil
Salt
Directions: 
Cut onions into rings, then add vinegar and a pinch of salt. Set aside.
Peel plantains and cut them in half or quarter if you'd like them to cook through faster
Add plantain and another pinch of salt in a large pot over medium-high heat.
Allow plantains to come to a boil
Remove plantains once they are soft
While the plantains boil, saute onions, salt, and vinegar. Be careful not to burn yourself, as oil may pop.
Once the plantains are ready, add Butter, cold water or water from where the plantains were boiling, sauce from the onions, and mash.
Mash until plantains are velvety smooth
In the end, add onions and sauce over top. Enjoy with fried Dominican Salami, Fried Dominican Cheese, and a Fried Egg for a traditional Dominican Mangu con Los Tres Golpes.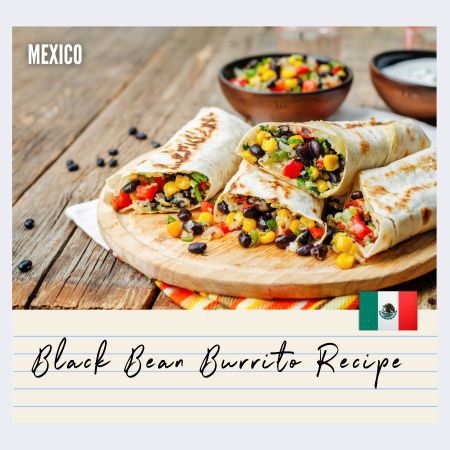 Black Bean Burrito
To prepare this Black Bean Buritto recipe, you will need:
2 (10 inch) flour tortillas
2 tablespoons vegetable oil
1 small onion, chopped
½ red bell pepper chopped
1 teaspoon minced garlic
1 teaspoon minced jalapeno peppers
1 (15 ounce) can black beans, rinsed and drained
3 ounces cream cheese, cubed
½ teaspoon salt
2 tablespoons chopped fresh cilantro.
Directions
Preheat the oven to 350 degrees F (175 degrees C). Wrap tortillas in foil.
Bake wrapped tortillas in the preheated oven until heated through, about 15 minutes.
Meanwhile, heat oil in a 10-inch skillet over medium heat. Add onion, bell pepper, garlic, and jalapeño; cook and stir for 2 minutes. Stir in beans and cook until heated through about 3 minutes. Stir in cream cheese and salt; cook, occasionally stirring, for 2 minutes. Stir in cilantro.
Spoon filling in a line across the middle of each tortilla. Fold opposing edges of the tortilla to overlap the filling. Roll 1 of the opposing edges around the filling, creating a burrito. Serve immediately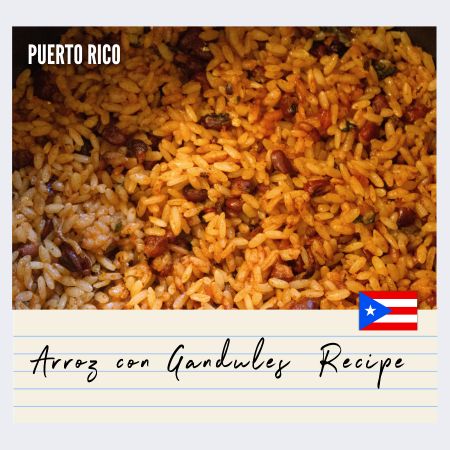 Arroz con Gandules
To prepare this Arroz con Gandules recipe, you will need:
2 ½ cups medium-grain rice
1 (15.5 oz) can pigeon peas (gandules)
3 tablespoons sofrito
4 ounces ham steak, salted pork fat (tocino) cut into small cubes or 1 smoked ham hock
1 heaping teaspoon tomato paste or 4 ounces of tomato sauce
1 ½ tablespoons powdered chicken bouillon or 1 (15oz) can of chicken broth
1 packet Sazon with achiote
1 packet of ham bouillon
1 dried bay leaf
1 teaspoon oregano
2 tablespoons green olives stuffed with pimientos
1 tablespoon vegetable oil
salt to taste
Toppings (optional)
handful of fresh cilantro
red pepper pimientos strips in brine
Directions:
Over medium heat, add 1 tablespoon of vegetable oil to a Calderoor Dutch oven.
Add ham steak cubes and saute for 3 minutes.
Add the sofrito, sazon, ham bouillon, chicken bouillon, oregano, bay leaf, olives, and tomato paste if using (only if using paste if using tomato sauce, we will add later) and stir.
Saute for 3-5 minutes.
Add the whole can of gandules, including the water they came into the pot.
Now add tomato sauce if using instead of the tomato paste.
Fill the same can the beans came in with water (15.5 ounces) and add to pot.  Stir all ingredients together. Please Note: If using chicken broth instead of chicken bouillon, adding additional water to cook rice is unnecessary.
While the cooking base and gandules are sauteing, rinse the white rice in water until water runs pretty clear, about 3 rinses (This removes the talc coating (peril) that helps preserve the rice).
Add the rinsed rice to the pot and stir.
Add salt to taste.  (I usually add a little less than a teaspoon to give you an idea.)
Test to see if you have enough water in the pot to cook rice. *TIP:  You know you have added enough water to rice when the liquid almost entirely covers a large spoon in the pot.
Raise heat to medium-high and allow the liquid to dry out for about 5 minutes completely. Please Note:  Watch rice so it doesn't dry out so much that the bottom will burn.  This will drastically carry the burnt flavor into the rice and taste awful!
Stir the rice with a large spoon, cover immediately with a lid, and lower heat to medium-low (Do not worry about the "pegao" that has built on the bottom of the pan; avoid stirring so hard as to remove pegao from the bottom; we do not want the pegao to be distributed into the rice).
Cook for 15 minutes on 

medium-low

. Please Note:  Once you have stirred and covered the rice, DO NOT REMOVE the lid to check on the rice until it is time to check on it again or rice will stun and remain hard grain and pretty much never cook the right way!
After 15 minutes, remove the lid and stir again (the rice will be even drier now, which is good!). Cover the pot and cook for another 15 minutes.
Remove the lid and stir again.  Rice is done and should be dry and fluffy… not wet and sticky.