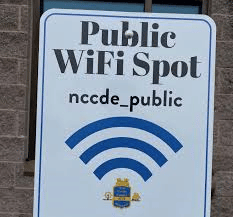 New Castle County stands united, during the Covid-19 Global Pandemic. Here are some spotlights and news.
Hundreds are using County's new free Wi-Fi hotspots
Usage data shows over 300 people have taken advantage of free Wi-Fi hotspots launched across New Castle County to help those without internet access during the COVID-19 pandemic. The Route 9 Library and Innovation Center and Bear Library have seen the most traffic followed closely by the Garfield Park PAL. New Castle County launched the Wi-Fi initiative two weeks ago at the Garfield Park PAL with a press event and has expanded it to offer Wi-Fi at 17 locations. For more information visit wifi.nccde.org.   Watch the launch event here
County delivers masks and PPE to local fire, police departments
New Castle County has been stockpiling personal protection equipment (PPE) to keep first responders safe during the COVID-19 pandemic. As part of that initiative, New Castle County Executive Matt Meyer delivered hundreds of face masks to members of the Elsmere Police Department, Wilmington Police Department and Wilmington Fire Department on Tuesday morning. Members of the Minquadale Fire Company picked up PPE supplies from the County's stockpile at the Government Center last week to keep their members safe.
United Way of Delaware and New Castle County are Stronger United.