The Delaware Racial Justice Collaborative (DRJC) is using its collective infrastructure and resources to amplify and support community-based initiatives that promote racial equity and social justice for all. DRJC is comprised of 200+ individuals representing nonprofits, community organizations, and business across the state focused on this issue. Specific initiatives will be fueled through community feedback and developed in partnership with grassroots leaders, civic leaders, and community organizations.

Who We Serve
People of color in Delaware see many examples of ways they are not  treated equitably as the result of government, corporate, and social policies that leave them angry and frustrated. We want to help them find safe and affordable housing and healthcare, send their children to good schools, feel safe walking around their neighborhoods at night; have easy access to bank branches with low-cost checking and savings accounts; find good jobs that enable them to take care of their families; and ensure their children can afford college after graduation.
Our 2021 Goals
Carry forward our Public Policy agenda in the 2021 session of the Delaware Legislature.
Implement a five-day version of the Racial Equity Challenge.
Expand partnerships with corporations and foundations.
Open a Freedom School in Sussex County (Summer 2021).
Expand our Learning Pods initiative.
Use DRJC's collective influence to drive systemic change statewide.
Continue building action plans for our Criminal Justice, Education, Wealth Creation, Health Equity, Public Policy, Diversity/Equity/ Inclusion, Marketing & Communication, Youth/Young People, and Evaluations/Performance Measurement workstreams.
What Can You Do?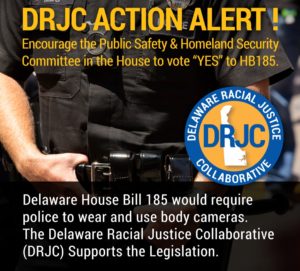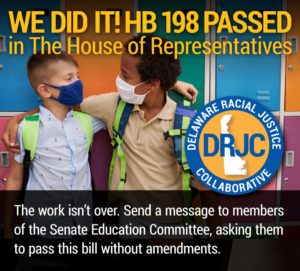 Download the Delaware HB 185 Legislator Letter Template
DONATING: United Way of Delaware established the Delaware Racial Justice Collaboration Fund as part of an integrated, statewide effort with other nonprofits, grassroots organizations and the community-at-large.
The DRJC is actively seeking the participation of individuals, organizations, civic groups, corporations, and foundations in our efforts to eliminate systemic racism in Delaware. For more information, contact Jamee Boone at jboone@uwde.org.
For more info, go to https://uwde.org/4equity/
VOLUNTEERING: We're approaching this effort at both a county and statewide level. If you're want to help, contact Jamee Boone at standupde@uwde.org
Learning Pods
Working in partnership with school systems and community-based organizations, the DRJC raised $1 million to create 26 "learning pods" where students can focus on their schoolwork in a safe, supervised location while their parents are at work.  The initiative includes tutoring and a range of wraparound social services for children and their families. The result? Average daily attendance for the 713 student participants increased to 89% and 79% completed daily assignments – well above what other communities are seeing with their remote-learning experiences.
Watch This
United Way of Delaware President and CEO Michelle Taylor discusses the work of the Delaware Racial Justice Collaborative with Network Connect's Erin Hutt and DRJC Youth Coordinator Cierra Hall.
DRJC's Diversity, Equity and Inclusion team has created the Racial Equity Challenge Series. For five consecutive days each month, participants are prompted with a daily e-mail challenge — such as reading an article, listening to a podcast, or watching a video–and are then encouraged to reflect on that content and to relate the situation to their own lives. Participants discover how racial inequity and social injustice impact our community. On the last day of every challenge, participants will be invited to a virtual town hall discussion about that week's Challenge. You can sign up now at https://deracialequitychallenge.org/