Here you'll find links to the latest news, press releases, and other information about our organization. If you are a member of the press and would like to speak with us, please contact:
Alva Mobley
Director of Marketing
302.573.3717
amobley@uwde.org
Members of the Press
FOR IMMEDIATE RELEASE
Access, Coordination, and Counseling Support among Key Opportunities Found in Statewide Postsecondary Landscape Analysis
WILMINGTON, Del.—When it comes to preparing students for life after graduation, Delaware has emerged as a national leader. But the state still has work to do in how it approaches college and career advising and leveraging its many existing resources for students and families with equity and efficiency—according to a landscape analysis report released Monday.
The Rodel Foundation of Delaware, United Way of Delaware, Delaware Department of Education, Delaware Community Foundation, and Delaware Business Roundtable Education Committee presented the results of a statewide landscape analysis of in-school and out-of-school postsecondary resources during a special event at the Route 9 Library & Innovation Center in New Castle.
The analysis was executed to gain a better perspective on the strengths and opportunities of current resources that prepare high school students for postsecondary options, and further enhance the work that is currently in progress. Organizers hope the report's findings spur stakeholders into action and position Delaware as a national model.
The analysis—collected from focus groups, surveys, and individual feedback—revealed significant assets in Delaware, including its committed public- and private-sector leadership, vision, and alignment. And while the state has a long list of successful programs ranging from state agencies, scholarship programs, and community-based organizations, the analysis found there is a need to strengthen the coordination and collaboration among youth-serving organizations, schools, and other stakeholders. Many programs also face capacity and resource needs.
"Delaware has gained national visibility for the rapidity with which it is opening career pathways to young people, preparing them to meet labor market needs in Delaware," said Nancy Hoffman, senior advisor at Jobs for the Future, a national nonprofit that conducted the analysis. "Nearly 9,000 high school students now have access to a career pathway program and early college credit. An increasing number are also gaining work experience.
"What we learned from the research, however, is that Delaware has to do a better job in ensuring that all students learn about the labor market and careers—not just about college—while they are in middle and high school. Delaware is ahead of the game in their honest assessment of the equitable distribution of services across the State. My guess is that other states will follow their lead in doing similar assessments."
The analysis also highlights Delaware's opportunity to rethink its approach to college and career advising. Delaware's counselor-to-student ratio of 1:464 is far beyond the 1:250 ratio recommended by the National School Counselor's Association. Many counselors shared that added job responsibilities like lunch or bus duty have stretched them thin and impacted their effectiveness to deliver postsecondary and career planning services, as well as mental and emotional heath support. However, the analysis revealed that adding more counselors is not necessarily the answer—national experts shared that leveraging out-of-school resources and building public-private partnerships may be Delaware's smartest approach.
It also shows that Delaware can do more to integrate college and career preparation, rather than treating them like separate paths. Other opportunities for the state identified in the report include:
– Increasing programming focused on career planning
– Finding the right college fit for students, and programs that ensure students complete college
– Removing barriers to accessing programming, such as transportation and language barriers
– Empowering families/parents, who are the primary source of information for students
– Strengthening strategic data use, referral of students, and capacity among youth-serving organizations
– More effectively using technology to meet student needs
– Addressing unmet mental health needs of students
"We know that the world is changing rapidly, and businesses can't find the talent they need to fill important jobs. We underwent this analysis to begin to understand where our system was serving young people well, and where we could strengthen or expand support to help them make informed choices and get ready for life after high school," said Gary Stockbridge, president of Delmarva Power, and chair of the state's Workforce Development Board. "We should be encouraging all students to explore their career interests, while supporting them to successfully transition to higher education and future careers with skills and supports they need to be successful."
Hoffman and Dr. Gregory Seaton of Jobs for the Future, which focuses on public policies that increase college readiness and career success, presented the findings. Stockbridge highlighted several updates the state has undergone since the completion of the analysis to showcase Delaware's commitment to improvement, including progress in aligning resources across government agencies, the launch of study to examine social and emotional supports for students and families, and public-private partnerships to expand career advisement. Local leaders from the Rodel Foundation, United Way of Delaware, and the Delaware Department of Education led small group conversations to explore the report's recommendations, build on momentum underway, and work with attendees to identify action steps to address the opportunities identified.
In total, more than 300 Delawareans participated in the process via interviews, focus groups, professional meetings, and surveys. Students, school counselors and administrators, government officials, representatives from business, community-based organizations, and postsecondary communities throughout the state were engaged during the research.
To view the full landscape analysis report, click here.
FOR IMMEDIATE RELEASE 
DELAWARE LAUNCHES CAMPAIGN FOR GRADE-LEVEL READING, 
AIMING TO IMPROVE STATEWIDE LITERACY RATES BY END OF THIRD GRADE 
DOVER, DE (October 25, 2017) — Secretary of Education Dr. Susan Bunting, State Board of Education President Dr. Dennis Loftus, and United Way of Delaware President and Chief Executive Officer Michelle Taylor were today joined by Governor John Carney for the launch of the Delaware Campaign for Grade-Level Reading (CGLR), a community coalition to improve statewide literacy rates by the time a child leaves the third grade.
A student's ability to read on grade level by the end of third grade is a key indicator of future success in school. In Delaware, 52% of school children read on grade level by the end of third grade. In 17 low-income zip codes in Wilmington, Dover and western and central Sussex County, that rate drops to 37%.* Some of these students suffer undiagnosed physical, emotional, or learning challenges, live in toxic stress, are often absent from school, and may not have access to after-school or summer learning experiences that enrich the lives of many of their peers.
"Third grade literacy is critical to the future success of our students," said Governor Carney. "This is the time when students shift from the fundamentals of learning how to read, to reading to learn. We must do better as a state, and I look forward to the work of our nonprofit and community partners to tackle this important issue."
"By the age of 3, a 30-million word gap exists between children from the wealthiest families and those who are economically disadvantaged," said Secretary of Education Susan Bunting. "Delaware is committed to aligning birth to grade 3 services throughout the state to benefit children now and for the long term. We know that building a solid foundation for language and literacy in the early years highly contributes to success throughout life."
"Students need early educational opportunities that focus not only on reading but also vocabulary development, written and oral communications skills, and numeracy," added Dr. Loftus, State Board of Education President. "One entity cannot tackle this alone but working together we are excited to help drive the changes needed for our earliest learners throughout Delaware."
MORE 
Campaign for Grade-Level Reading—2 
The CGLR coalition will bring together state government, nonprofit organizations, foundations, schools, and others to address this situation, especially in low-income areas of the state, by leveraging resources in five focus areas:
 Increasing the number of early screenings to detect physical, emotional, and/or learning barriers in children
 Improving academic achievement
 Reducing chronic student absenteeism
 Reducing 'summer learning loss'
 Increasing the number of degreed professionals in the early childhood workforce
The work of the coalition will be led by the CGLR Steering Committee which will comprise nonprofit leaders, school and community based organizations, and state leaders who will participate on subcommittees addressing the five focus areas.
Taylor of United Way adds, "Improving early grade literacy is a central part of United Way of Delaware's strategy for improving the quality of life in our state. We welcome the opportunity to help lead the Delaware Campaign for Grade-Level Reading and look forward to creating a new generation of motivated young readers across Delaware."
Taylor says United Way operates its Reading Angels and My Very Own Library programs, which provide in-school reading volunteers and more than 90,000 books for Delaware school children, respectively. She noted that individuals interested in promoting grade-level reading can volunteer to read to school children as part of the Reading Angels program by emailing communityengagement@uwde.org.
Contact: Schlonn Hawkins
United Way of Delaware
302.573.3722/302.359.9144
United Way Branding
These are the official colors and logos of the United Way.
#10167f

#fe230a

#ff9600

#7c81b8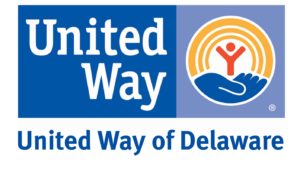 Stay United With Us